in the mario fandom you have 2 sides one is the peach fanbase the other is the daisy fanbase they bash on the other sides like crazy and have stupid reasons for hateing both whats worse is its not over shipping DAISY AND PEACH ARE BEST FRIENDS THEY ARE THIS TROPE
tvtropes.org/pmwiki/pmwiki.php…
maybe even closer then there boyfriends this reminds me of the rukia vs orihime thing in the bleach fandom both are best friends and are this trope
tvtropes.org/pmwiki/pmwiki.php…
yet both hate on the other for stupid reasons mostly over who ichigo shoud be with NEWS FLASH ICHIGO OR RUKIA HAVE NO CANON FEELINGS FOR THE OTHER ICHIGO ALSO HAS NO CANON FEELINGS FOR ORIHIME kubo has said ichigo and rukia are more than friends less than lovers
all the defense rights go here
fyeahcontroversialcharacters.t…
there not made by me
now back on to the mario thing
reasons why people say they hate peach and the defense
Getting kidnapped all the time / Not being an action girl
Oh man.
She gets kidnapped all the time because of a little thing called character motivation. If she never got kidnapped, there wouldn't be any Mario games. At all. None. They exist because Mario needs a reason to go out and kick Bowser's ass. Otherwise he's just a jerk in a pair of overalls.
And she is an action girl, just not in the main games. Shockingly, there's other Mario media other than the games!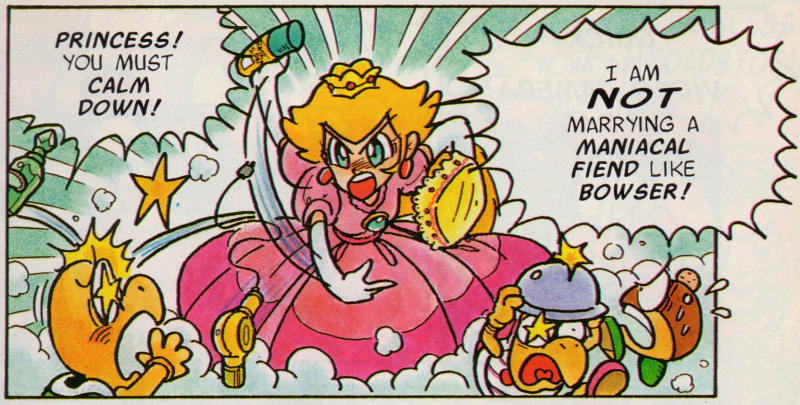 There's also a clip from the cartoon/movie but I can't be bothered to find it.
There's also the fact that she was the protagonist of her own game, but that will be addressed next.
Super Princess Peach being bashed due to her using her emotions
I've seen the game given the nickname "Super PMS Peach", and that's funny sure, but it's just a stupid reason to hate a game.
One has to realize that Peach (usually) can't use items such as Mushrooms and Stars like Mario and Luigi can. Yet she has to be able to get through the obstacles of the game somehow.
Ditzy Personality
When was Peach EVER shown to be ditzy?
Cheats at Mario Party when an AI character
Oh man. It's like she's a computer player. It's like she's programmed to try and win.
Look, I'll call the CPU a cheating bastard as much as the next person, but that doesn't mean it actually happens. They're programmed to act like a human player, which means that—shocking!—they're going to use whatever means necessary to win. Just like a human player. And it's not even limited to Peach. Any character that is set to CPU is going to behave similarly. That's like getting mad that the computer player in a racing/shooting/puzzle/whatever game wins and that you should win every time because you're the human and they're the computer. Unless you're perfect in every way imaginable, that's not going to happen. Get over it.

and just because shes not a action girl or needs help does not mean shes useless and she helps get mario info when captured and hateing her for her voice is dumb


and reasons why people say they hate daisy and the defense



She lacks personality
She may be an underdeveloped character, but so are a lot of the characters in this universe, part of the charm of Mario characters is that they're flat enough to be simple, granting you the power to project some qualities on them if you want. But they're also unique enough to make each person memorable. Daisy is no different. She's a tomboy and a spitfire, she loves sports and enjoys winning.
Too loud/Annoying voice
Daisy is an enthusiastic girl, of course she'll be loud. If she emoted the same way Rosalina or Peach did, she'd be a clone. It's not like she's yelling all the time anyway, she talks like a normal person in Mario Golf. And yes, she can be a poor sport when she loses, but if she was faultless, she'd be a Mary Sue. And nobody likes a Mary Sue. Not to mention, everyone in these games can be whiny like that, if you lose as Luigi in Mario Kart 7 for example, he throws a fit. It doesn't excuse her, but why do characters like Luigi who do the same thing get a free pass while she doesn't? I don't hate Luigi, he's my favorite character actually, but I don't see how he can get away with it while Daisy is bashed for it.
Appearence is just a recolor of Peach's
Please look at the picture above you, besides the fact that they both have dresses and have crowns, she is really just a direct rip-off of Peach? Her dress design is different from Peach's, not to mention the color scheme and theme. Her outfit is heavily inspired by flowers, she may look similar to Peach, but that doesn't make her a clone! By that logic, Rosalina's a clone of Peach since they both have blonde hair and blue eyes! Daisy is shorter and chubbier than Peach, her eye shape is different and so her is hair. She even has a different type of nose and skintone. If Daisy was just supposed to be a recolor, why is she given her own unique look?
Boring/Unattractive
Along with her voice, just because you personally dislike her looks doesn't mean that everyone feels the same way, that your opinion is "right" or that it's a fair reason to not like her. You can dislike her design, but acting like it's legitimate criticism seems awfully shallow. Some people (me included), personally find her cute. It's all matter of opinion and it should never be an actual argument to hate or love a character.
Gets in the way of *insert some ship here*
So? It's not her fault, she's shown to possibly have some feelings for Luigi, but just like every other Mario ship out there, it's not like it's been used loudly or made canon. Daisy is a fictional character, you can hate ships, but don't act like Daisy is to blame for your OTP not getting attention or evidence or something.
Nothing unique about her
Re-read everything I've just written, please.
That doesn't make sense, if she was, then why has Nintendo gone through so much to make her different from the other princesses? Even the abilities she has in the Mario games are different from Peach and Rosalina. By this logic, Luigi is a worthless clone too! After all, he's just a shy, skinny, taller version of Mario in green. We should hate Wario because he's a shorter, meaner version of Mario in yellow. Waluigi should be considered to be the worst character in the franchise ever since he's just a recolor of another recolor! I'm not trying to bash anyone here. But think about it.
All in all, I don't see how Daisy can be berated for being a "worthless clone with little nothing special or interesting about her" while others can be "cloney" too and get praised, poor Daisy.

Daisy is a cool princess with a lot of sass, energy and radience. She's a tomboy who's always read to give it her all, heck there was the time she punched Bowser out of her way in Mario Party 3! She has so much potential and maybe one day, she'll get a chance!

Annoying
Again, personal claim. How is she annoying, and no her voice doesn't count.


"Hi I'm Daisy!"
I personally find that cute. And it certainly has a lot more enthusiasm than Rosalina's "Woo-hoooooo!" And whose to say that it's her only line because Nintendo gave her more lines and catchphrases over the years. However, she has garnered notoriety for that line alone after Double Dash. The negative attitude people give to this quote is unwarranted. We can cheer at Mario saying "It's-a me! Mario!" but we cringe at "Hi, I'm Daisy!" sounds like a bias to me.

She's only in spin-off games
Blame Nintendo, not her.

"Peach Clone"
This is probably one of the most controversial EXCUSES (yes I say excuses) to rip on Daisy, especially when bringing her into not only smash, but Mario games outside of spinoffs in general. And before I go on, can I just point out a big problem circling the smash fandom? Whiny fans constantly acting like the inclusion of clone characters is the equivalent of CancerAIDS. Yes, it's gets annoying that we get two very similar characters sometimes, that I can get. In an utopian society, characters would each have a different moveset, but from a developers perspective, it doesn't bloody matter! The "clone" term is just a pathetic derogatory term just to be an asshole to people who want a character in smash, yet some want to bring back a clone from the predecessors anyways! For the love of god people, clones are not going to mark the end of smash! So Lucina is a "bad" Marth clone, but Roy gets a free pass because you Melee fanboys jizz your panties over him? But I digress.
Daisy is NOT a "Peach" clone. She's not a Peach recolor and the only reason why everyone says so is because in Melee, Peach has an alternative swap similar to that of Daisy that has been going on for years, thus ultimately jumping to the conclusion that Daisy would've been a "clone." A conclusion coming from MOSTLY competitive gamers and Melee stans with attitudes far worse than Genwunners. But let's be real here, that never stopped other members of the Mario franchise from having pallet swaps similar to each other and look how they've turned out! Just because it's what's done doesn't mean it's what should be done.
For example, Luigi has always been openly addressed as "green mario," even in RPG games they poke fun of that claim. He started the "Luigification" term because he used to be a Mario clone in the VERY FIRST Smash game, in case you've been busy jerking off to Melee. So why is it that he gets so much praise while Daisy is shunted by many for the whole "clone" business. I know factors come into play, but something's not right here. Daisy is a tomboy, meaning she's developed a more masculine personality than Peach. You could make a slim argument that she looked similar to Peach in Mario Party 3, but in her defense, the N64 had VERY limited graphics compared to the graphics now. I'll give Nintendo credit for fleshing out her character and giving her a distinct makeover and different stats in spinoffs. Seriously, she kicks Bowser in midair because he was in her way and yet you say she has no potential to be in smash?
I remember seeing a post from the-unpopular-opinons once stating that Rosalina is just as much a Peach clone as Daisy is in terms of appearance, but some pissy little manchild, defends the space "waifu" and slams the OP by stating that they were "wrong" and Rosalina was too "mature" and too "beautiful" to be considered a clone, and when someone else tried to defend the OP, the same manchild kept spewing the same crap over and over again; "ROSALINA IS MATURE LOOKING SHE DOESN'T LOOK LIKE PEACH YOU CANNOT DENY THAT DAISY IS A PEACH CLONE!!!1!!1" I'm surprised that when Daisy's called a "clone," people shrug it off and cave in to the hate, but say one thing wrong about precious Rosalina, the whole world blows up! I don't hate Rosalina, I'm just burying the lead here.
As I was writing this, I've tried searching for more evidences to back me up, unfortunately for me, it was pretty scarce and all I could find were pretty much the basic bias coming from just about everybody. Later on I came across a bunch of YouTube videos encouraging Daisy not just as a smash character, but an actual Mario character too! Give them a good watch, I promise you you won't waste your time!
We focus way too much on appearances in this generation, and Daisy is living proof of that. She's often out shined by Peach and Rosalina appearance wise because people often put the focus on looks instead of personality, you know, what's on the inside. Give Daisy a chance you guys.

and just because she needs help does not mean shes useless and she helps get mario info when captured and hateing her for her voice is dumb